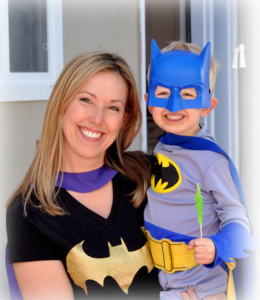 About Cherry on Top Parties
My name is Kelly Vockell, and I am the lucky mother of two exuberant boys ages 5 and 7. I have always had a passion for parties.  I am a graduate of Yale University with an extensive background in event design and execution, having orchestrated elegant anniversary parties, extravagant 50th birthday parties, and 400+ person gala affairs.
These days, I've (mostly) traded my mixology talents for mad crafting skills, and absolutely adore throwing celebrations to remember.  Cliché as it may be, the years are passing way too quickly, and I see my sons' birthdays as important flash points to stop and appreciate this precious, yet fleeting, moment in time.
Cherry On Top Parties has been borne out of this desire – to help already way-overextended moms to truly celebrate and memorialize this uniquely perfect moment in their lives.  No stress. No guilt. No more burdensome to-dos.  Let Cherry On Top parties create the perfect little party for your perfect little person!